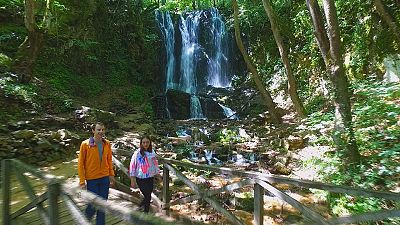 In this episode of Macedonian Adventures, we are taking a hiking trip in the Belasica mountain range, in the country's south east.
"The name Belasica is often translated as a 'shining mountain' – it's a picturesque range with diverse hiking trails," reported euronews' Denis Loctier.
From the Tumba Peak, that opens breathtaking views over three neighbouring countries, down to the dazzling waterfalls at Belasica's foothills, it's a soothing trip that attracts mountain lovers throughout the year.
Mountain climber Biljana Serafimovska commented: "Belasica is one of the most beautiful mountains, and one of the steepest. Many water springs are coming out here as natural thermal, mineral, healing sources.
"This waterfall here is one of the most beautiful – it's a synergy of many such springs."