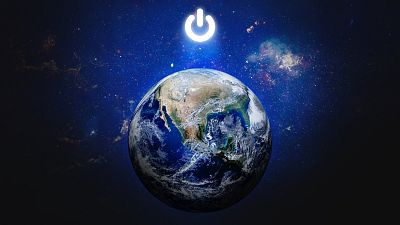 -
Switching off the lights in your house for an hour - a simple idea that will bring millions of people together this year to celebrate what is known as Earth Hour.
Organised by the World Wildlife Fund (WWF), this 60-minute celebration of our planet will take place digitally in 2021 due to the COVID-19 pandemic.
Earth Hour has been uniting people all over the world, in more than 180 countries, for the last 13 years.
Today, the last Saturday in March, communities and businesses will switch off their lights between 8:30 and 9:30 pm local time to show care and support for planet Earth.
In 2019, lights were even turned off in the Eiffel Tower in Paris, the Sydney Opera House and the ancient Acropolis in Athens.
If you decide to take part digitally, be sure to share your Earth Hour experience using the hashtag #EarthHour.
The organisers have put together a list of 20 ways you can take part from home.
Switch off your lights
Join us virtually and tune in online to one of our live Earth Hour streams
Have a night of board games or book readings in candle-light
Themed movie night
Make an impact in only 60 seconds - sign our Voice for the Planet petition
Camp in your backyard or living room
Take a Class is in session
A game of wildlife related Heads up!
Practice some night-photography or try out "light-painting"
Up your sustainability knowledge and know-how
Create your own mini-golf course using household objects
Create your own Rube Goldberg machine
Challenge your artistic side with a candle-lit paint night
Write a letter to your future eco-warrior self
Eco-friendly fashion show
Dance the night away or hold a silent disco
Acoustic jam session
Try animal-inspired Yoga at Home
Every weekday at 15.30 CET, Euronews Living brings you a cutting edge, environmental story from somewhere around the world. Download the Euronews app to get an alert for this and other breaking news. It's available onAppleandAndroiddevices.