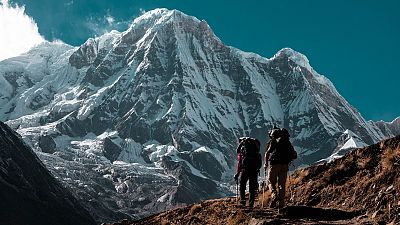 Historically, activewear has suffered from stigma. It conjures up visions of drab waterproofs, battered walking boots or – perhaps most derided of all – the dad fleece. Just as we're more likely to pick up an artfully packaged lotion than, say, a nail brush, it's often the case that the more functional the item of clothing, the harder it has to fight for our attention.
That's all changing, though. Utilitarianism has never had a stronger footing in luxury fashion, as evidenced by the functional cuts pioneered by brands like Vetements, Christopher Raeburn and Margaret Howell, experimental tech fabrications at labels such as Calvin Klein and Salvatore Ferragamo, and the enduring appeal of the backpack, which has waxed and waned on the catwalk for several seasons now.
Simultaneously, the way we produce activewear is in a state of flux. Typically, sportswear equates to manmade fabrics heavily treated with chemicals that can be damaging to the environment. But an increasing number of activewear brands are seeking to give back to the wild and beautiful landscapes their clothes are designed to endure, from leggings crafted out of recycled bottles to sustainable footwear inspired by the fragility of the oceans.
With fashion's penchant for practicality filtering into a host of imaginative collaborations and collections for AW18, Living it picks three activewear labels that enable the wearer to support the environment while exploring it.
The big-name collaboration: Palladium X Christopher Raeburn
British designer Christopher Raeburn, known for his themes of exploration, teams up with American adventure boot brand Palladium for a footwear collection that puts sustainability centre stage. Taking inspiration from the fragility of the oceans, these hardy waterproof boots, crafted from recycled rubber and PET nylon are named after creatures of the deep ('Night Squid', 'Scuba') and rendered in coral reds and inky hues. Billed by both parties as "our most creative call to arms for responsible design and sourcing", the range is marketed transparently, with the total percentage of recycled materials clearly signposted in each product description.
The long-serving stalwart: Patagonia
Championing an environmental ethos since its launch in 1973, Californian outdoor clothing giant Patagonia knows its stuff when it comes to sustainability. A ski brand at core that's evolved to produce clothing for surfing, fly fishing, paddling and trail running, its aesthetic tends towards the simple and utilitarian. The mission? To work towards a business model that solves environmental problems, rather than creating them. Among those sustainability commitments are using recycled polyester and organic, rather than pesticide-heavy cotton, while Patagonia's Worn Wear program keeps its garments in service longer and offers a way of recycling items beyond repair. The brand pledges to give its time, services and at least 1% of its sales to a plethora of grassroots environmental groups across the world. Lately Patagonia has experienced something of a renaissance (if it ever went away) with East London's urban creatives taking the brand's fleece jackets, insulated flannel shirts, backpacks and beanies under their wing.
The radical newcomer: Peak + Flow
Launching in January 2019, British activewear brand Peak + Flow is the brainchild of Gaz Evans and Joe Lines. "We saw activewear as a category being dragged increasingly towards fast-fashion, resulting in clothing that was over-logoed, over-designed and released faster than necessary," says Lines. By contrast, Peak & Flow's garments will be made from 82% recycled materials and delivered in recycled and biodegradable packaging. The range – which is characterised by its clean lines, geometric patterns and pops of electric blue – is split into two core groups, Peak Pieces and Flow Pieces, the former designed for high-power sports like hiit and running, the latter for movement sports like surfing and yoga. Like Patagonia, the brand is a member of 1% to the Planet, and gives an additional 1% of revenue to charities of its choice.
Writer: Mary-Jane Wiltsher