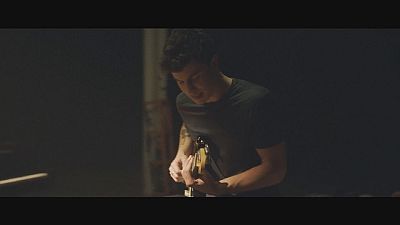 Canadian singer-songwriter Shawn Mendes has released his highly anticipated second album 'Illuminate'. It's the follow up to 'Handwritten' his successful debut from last year and already looks set to eclipse its performance.
'Illuminate' debuted at number one on the US Billboard 200 music chart with 145,000 copies sold in the first week of its release.
With 25 million listeners per month, Mendes also tops Spotify's annual list of the most influential artists under the age of 25 – something he puts down to the breath of his musical tastes.
"My favorite part about the music we created is you cannot put a genre to it. Try your best like, 'Treat You Better' is like a pop song. 'Ruin' is like a soulful, bluesy song. 'Mercy' sounds like a rock song," said Mendes.
"You can't put a genre to the album and that's the coolest thing in the world and that was unintentional. We just write like what we feel in the moment and growing up I always listened to all kinds of music across the board and I think that's why my album turned out the way it did," he added.
Mendes' rise to stardom has been swift and spectacular. His journey began three years ago when he started posting six-second Vine clips of himself singing covers. He has managed to transform the online phenomena into a vibrant musical career, and now fills major venues like New York's Madison Square Garden.
He is only 18, but Mendes says he has done a lot of growing up in three years – and he has tried to reflect that across the album.
"I think as a whole, as a person from 15 to 18 you're a whole different person, not to mention having this career on top of that, and this world is such a crazy world, so much, I feel like a different person. Not like a different person but I feel grown and I feel wiser and I feel like I've learned something and it's just great. It's a really fun time in my life right now," explained Mendes.
Like his Canadian compatriot Justin Bieber – who also started out singing covers online – Mendes' success shows the true power and potential of having a massive interconnected fan-base.
He has already toured with another pop-titan in Taylor Swift, but he is now set to take the spotlight on his own. Shawn Mendes is probably heading to a city near you soon as with his world tour kicks off in Australia this week.