Watch: Sword fighting, jousting and archery at medieval festival
Comments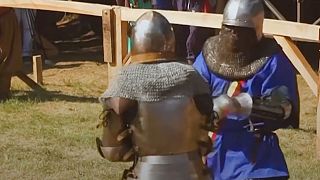 It seemed as if the clocks turned back several centuries at a medieval festival in Serbia.
Men, and one woman, from throughout Europe donned shining armour and engaged in sword duels outside the 15th century Manasija monastery near the town of Despotovac.
The battles were tense, with great skill and physical endurance needed to succeed in the duels that were fierce rather than theatrical.
Only one woman, Neda from Croatia, took part in sword fighting at the "Just Out" festival.
"It's great for me. It's anti-stress therapy, you can channel all your negative vibrations onto a friend or a car tire," she said.
The festival, held on August 25, allowed onlookers to catch a glimpse of a bygone era with jousting duels, blacksmiths shaping metal and costume-clad archers hitting their targets while visitors were able to participate in wood carving and cooking the food of the age.
"All of the food is prepared with ingredients that were available in medieval times, in the 14th century in Serbia," Slavoljub Ljubisavljevic, from Serbia, said.
This year, the four-day festival aims to commemorate the 600th anniversary since the monastery was built.