Search for Bulgarian mountaineer Boyan Petrov ends without success
Comments
By Michael Fiorentino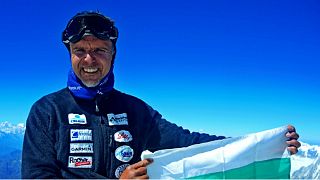 A final helicopter flew from Kathmandu airport to the Tibetan peak of Shishapangma this morning in a last attempt to locate Bulgaria's most distinguished mountaineer, Boyan Petrov. 
Chinese rescuers also found nothing as they continued to search the area surrounding Camp 1 and Camp 2 of the world's 14th largest mountain.
"Unfortunately, we did not find Boyan, but we can now leave knowing that everything was tried," said Kiril Perkov, a member of the Bulgarian climbing team.
The zoologist separated from his climbing group on April 29 to attempt a solo summit without oxygen.
Petrov, 45, always used his cautious and observant climbing methods to summit 10 of the 14 mountains over 8,000 meters, all without supplementary oxygen.
Petrov leaves a legacy of inspiring Bulgarians to be excited and curious about the natural world, and motivating an entire generation of mountaineers to challenge themselves to reach the highest peaks on Earth. 
Fellow Bulgarian alpinist Atanas Skatov, who is the first known vegan to summit Everest, credits Petrov's confidence and strategy as the driving force for his own climbing ambitions.
"I know that however strong we are, nature is stronger but Boyan was not afraid of anything." Skatov wrote on Facebook. 
The climber is now on his way to Everest where Petrov was supposed to meet him. 
"I am going to miss the strong runner next to me, who led me and pressured me until the end of the race. The only thing I can do now is continue forward to Everest and summit the world's tallest peak in honor of you. I will feel your spirit there, where we will speak without words."