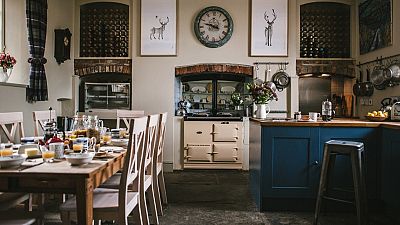 Finding ways to stay ecologically responsible whilst on holiday can be tough – particularly with the amount of travel involved, it can be hard to keep down your carbon footprint. But instead of heading to a city or large scale hotel, one of the best ways to really align yourself with nature is by booking a farm stay. The 'agritourismo' culture in France and Italy is booming and the opportunity to escape the stresses of modern life, get more fresh air and live off the land becomes more appealing than ever. Here, Living it takes a look at three of the agri-tourism experiences in Europe that manage to run sustainably without compromising on style or luxury. Get ready to get your hands dirty and eat some of the best food of your life – these are the best sustainable agri-tourism experiences to book next year.
The Domaine D'Ablon, Normandy
Take a trip across the channel to Albon and be rewarded with a stay at this 15th century farm. Set amongst 12 acres of gardens and crops, it was renovated three years ago using locally sourced sustainable building materials – as much to remain eco friendly as to preserve the history of the original thatch-roof buildings.
The décor is fresh and modern, but still celebrates the original features on display – particularly in the Grand Suite du Colombier – an old dovecote with a conical thatched roof like something out of a fairy tale.
The menu is one of culinary finesse, imagined by head chef Jérôme Billochon, and most of the ingredients come from the organic vegetable garden on site – the focus is on allowing the natural full flavours of the produce to shine through. If you like to get stuck into the cooking, there are classes in Norman cooking. Patrons can also be schooled in holistic medicine from the farm's very own medicine garden, which stocks a wide variety of herbs and plants, giving off the most intoxicating aromas, particularly in the summer months. From the food to the way of life, everything at Domaine D'Albon centres around the land and the careful tending of it.
**Book now
**
Agriturismo Biologico Toscana Sant'Egle, Tuscany
If you've ever fantasised about living out your own Tuscan dream, look no further than Sant'Egle, a hidden gem tucked into the rolling countryside of Sorano. Surrounded by olive groves and lush fields, it's a rural paradise perfect for escaping to.
The eco credentials of this farm – come – hotel run deep. All materials used to build the house and pool are certified eco-friendly and the water is recycled to irrigate the organic vegetable gardens. The style imbued in each room is slightly different but uniformly welcoming – warm colours, antique furniture, cavernous bathtubs and picturesque views being just some of the things to look forward to.
From Tuscan cooking to organic agriculture, there are several courses here that'll teach you about the importance of growing organically and using earth-friendly principles in everyday life. In your down time, book a private yoga session or massage with the on-site wellness experts, or simply laze by the pool after a browse around the vegan and cruelty free farm shop.
Sant'Egle gives you the opportunity to sample Mediterranean food at its finest – dishes you make or are served will be rustic and wholesome; full of colour and the vitality that organic farming brings.
**Shop now
**
Launceston Farm, Dorset
You don't have to leave the country for an eco-friendly getaway – if you've just got a weekend to spare, book into Launceston Farm – a sleepy Georgian farmhouse in Dorset. Able to sleep up to 12 guests, it's ideal if you've got a family gathering or friends' reunion on the horizon. A scrubbed wooden table and aga give the spacious kitchen a family feel, whilst the indoor swimming pool makes ideal entertainment for kids and adults alike. The house is decorated throughout with a hearty, classic country style (think tartan curtains, plenty of antique wood and squashy sofas surrounding woodburners) whereas the two cottages exude a more modern, luxurious style – book into the Bothy and you'll be rewarded with an outdoor bathtub overlooking the gardens.
The owners take sustainability very seriously – the building is equipped with solar panels and a biomass heater to generate light and heat and there's a rigorous recycling policy that all guests must adhere to. The organic vegetable garden is fed with collected rainwater and there are friendly reminders throughout the space to turn off lights and switches not in use.
The 16th century Launceston Farm is a real passion project, having been in the same family for three generations, and this is something you see exemplified in the service and running of the property, which focuses on giving back to the local community.
Writer: Bianca Barratt