Ukraine war: US nuclear weapons warning; Russia protests; and new mass burial sites found in Izium
Comments
By Euronews with AFP, AP, Reuters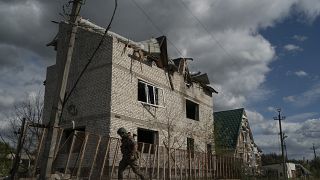 -
1. US warns Putin of 'catastrophic consequences' over nuclear weapons
The United States has said that it would respond "decisively" if Russia uses nuclear weapons against Ukraine.
US National Security Adviser Jake Sullivan told NBC News on Sunday that Russia would face "catastrophic consequences".
His comments came after Russia promised to protect Ukrainian regions it might annex following widely criticised "sham referendums".
Citizens in four regions of Ukraine were "voting" for a fourth day on Monday in the Russian-organised polls in Donetsk, Kherson, Luhansk, and Zaporizhzhia. Images on social media show armed Russian troops going door-to-door to pressure Ukrainians into voting.
Moscow's allies, including Serbia and Kazakhstan, have joined the West in stating that they will not recognise the results.
Russian President Vladimir Putin has said Russia would use "all available means" to defend its territory including annexed regions.
The Kremlin said on Monday it was in "sporadic" contact with the United States on issues related to nuclear arms.
"There are channels for dialogue at the proper level ...[that] allows for the exchange of some emergency messages about each other's positions," Kremlin spokesman Dmitry Peskov told reporters.
Ukraine's President Volodymyr Zelenskyy has said he did not believe Putin was bluffing over his threat of nuclear weapons.
"Maybe yesterday it was bluff. Now, it could be a reality," Zelenskyy told CBS News on Sunday.
Zelenskyy has previously accused Russia of committing "nuclear blackmail" by shelling near two nuclear power plants in southern Ukraine. Moscow has denied the allegations.
Ukraine's security chiefs met on Monday to plan ways to counteract Russia's use of "new types of weapons" after shelling in the Ukrainian port city of Odesa on Sunday night sparked a massive fire and explosion
The airstrike -- which hit a military installation -- was the latest in a series of drone attacks on the key southern city in recent days.
Firefighters were struggling to contain the blaze, the Ukrainian military's southern command said.
"As a result of a large-scale fire and the detonation of ammunition, the evacuation of the civilian population was organised," it said on Telegram. "Preliminarily, there have been no casualties."
Meanwhile, heavy fighting saw more than 40 towns hit by Russian shelling, Ukrainian officials said on Monday.
2. Growing protests against call-up of Russian reservists
Around one hundred people were arrested on Sunday in the southern Russian region of Dagestan during a demonstration against military mobilisation.
Videos on social media show women arguing with police officers, while some protesters were forcibly detained.
On Wednesday, Putin announced a "partial mobilisation" to add at least 300,000 troops to its force in Ukraine -- the first such move since World War II.
The first batches of these troops have begun to arrive at military bases, the UK Defence Ministry said on Monday.
But the move has led to widespread protests, with many citizens fleeing Russia to neighbouring countries.
Ukrainian President Zelenskyy has also described the mobilisation as a sign of weakness, calling on Russian citizens to "keep on fighting so that your children will not be sent to their deaths."
According to the NGO OVD-Info, at least 101 people were arrested by police over the weekend in Makhachkala, the capital of Dagestan.
The Muslim majority region has already paid a heavy human toll during the war in Ukraine. According to independent Russian media, at least 301 soldiers from Dagestan have died since 24 February -- the most of any Russian region.
OVD-Info says more than 2,300 people have been detained at anti-mobilisation rallies in Russia since Putin announced the move.
Meanwhile, a 25-year-old man was arrested on Monday after opening fire at a military recruitment centre in the Irkutsk region of Siberia.
A military commandant was shot at close range and seriously injured in the incident, officials said.
"The shooter was immediately arrested. He will absolutely be punished," the governor of the Irkutsk region, Igor Kobzev, said on Telegram.
"I am ashamed that such a thing should happen at a time when, on the contrary, we should be united, not fighting each other, but against real threats," the governor added.
Russian media reports claimed the man walked into the facility saying "No one will go fighting" after his best friend was recruited.
3. 'No decision made' on closing borders, says Kremlin
The Kremlin on Monday admitted that "mistakes" had been in the mobilisation process of reservists to fight in Ukraine.
"There are cases where the decree has been violated," Kremlin spokesperson Peskov said, expressing hope that "mistakes will be corrected".
Moscow said the move would only concern people with military experience or the required skills, but multiple reports have emerged of elderly, sick or inexperienced people being enlisted.
Peskov also stressed that "no decision" had been made to close borders and prevent military-age citizens from leaving the country.
The Finnish border guard said on Monday that it had recorded its busiest weekend of the year for Russian entries, with nearly 17,000 people crossing into the EU country.
On Monday, a senior lawmaker said that Russian borders should be closed to draft-eligible men amid the exodus.
"Everyone who is of conscription age should be banned from travelling abroad in the current situation," Sergei Tsekov, a member of Russia's Federation Council, told RIA news agency.
4. 'Putin's chef' admits founding Wagner mercenary group
A Russian oligarch and close ally of Vladimir Putin has finally admitted that he was behind the Wagner paramilitary group.
Yevgeny Prigozhin said that he founded the private group in 2014 -- the same year Russia annexed Crimea -- and described Wagner as a "pillar" of Russian defence interests.
Prigozhin is known as "Putin's chef' because his Concord catering company supplied the Russian government.
Until now, the Russian President has always denied any direct link between the Kremlin and Wagner -- which was often seen as Russia's shadow army.
Human rights activists have accused the Wagner group of committing war crimes in Ukraine, Syria and Libya.
Prigozhin's admission comes after a viral video appeared to show him recruiting prisoners from a Russian jail to fight with Wagner in Ukraine.
"These guys, heroes, defended the Syrian people, other peoples of Arab countries, the African and Latin American deprived, they became a pillar of our homeland," he said on social media.
Prigozhin has been sanctioned by the United States and European Union for his role in Wagner.
The West has accused the oligarch of funding "troll factories" that interfered in the 2016 US presidential election.
5. More mass burial sites discovered near Izium
Ukraine says it has discovered two more mass graves containing "hundreds" of bodies in the northeastern town of Izium.
The site is reported to be an industrial poultry farm near Kozacha Lopan, less than three kilometres from the Russian border.
President Zelenskyy said the find came after Ukrainian troops had recaptured the region from Russian forces earlier this month.
Authorities are already investigating after several mass graves were found in a forest near Izium. At least 436 bodies have so far been exhumed from the area.
The regional governor has said that many of the bodies appear to have suffered torture or violent deaths.
Russian authorities have not commented on Zelenskyy's claim about the discovery of two more burial sites. Moscow regularly denies committing atrocities in the war in Ukraine or targeting civilians.
6. UK announces sanctions over 'sham referendums'
The UK government has announced a new package of sanctions in response to the holding of "illegal sham referendums" in southern and eastern Ukraine.
The measures will target top Russian officials enforcing the votes as well as "Putin's favourite PR agency," the Foreign Office said in a statement.
A total of 92 sanctions will also hit Russian oligarchs worth a total of £6.3 billion (€7.0 billion) and board executives from major state-owned banks.
"Sham referendums held at the barrel of a gun cannot be free or fair and we will never recognise their results," said UK foreign minister James Cleverly.
"They follow a clear pattern of violence, intimidation, torture, and forced deportations in the areas of Ukraine Russia has seized."
Among the 33 officials being sanctioned over the "referendums" are Sergei Yeliseyev, the head of the Russian-installed government in the Kherson region.
Yevhen Balytskyi, the head of the recently installed government in Zaporizhzhia, has also been targeted as well as IMA Consulting, which reportedly manages the campaigning for the "votes".
God Nisanov and Zarakh Iliev -- known as the "Kings of Russian real estate" -- are also on the new sanctions list.
"Today's sanctions will target those behind these sham votes, as well as the individuals that continue to prop up the Russian regime's war of aggression," Cleverly said on Monday.
"We stand with the Ukrainian people and our support will continue as long as it takes to restore their sovereignty."
7. Putin grants Russian citizenship to whistleblower Edward Snowden
President Vladimir Putin has granted Russian citizenship to whistleblower and former NSA contractor Edward Snowden, who has taken refuge in Russia since 2013 after leaving the United States, according to a decree issued Monday.
Snowden is one of 75 foreign nationals listed as being granted Russian citizenship. The decree was published on an official government website.
Snowden has been living in Russia since 2013 to escape prosecution in the US after leaking classified documents detailing government surveillance programmes.
He was granted permanent residency in 2020 and said at the time that he planned to apply for Russian citizenship without renouncing his US one.
Snowden's lawyer, Anatoly Kucherena, told Russia's state news agency RIA Novosti that the former contractor's wife Lindsay Mills, an American who has been living with him in Russia, will also be applying for a Russian passport.
The couple had a child in December 2020.
Snowden, who has kept a low profile in Russia and occasionally criticised Russian government policies on social media, said in 2019 that he was willing to return to the US if he was guaranteed a fair trial.