Exiled Syrian artist recreates his suffering in the country's prisons
Comments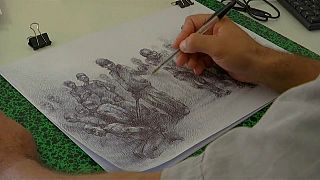 An exiled Syrian artist has been creating art to capture what he saw and experienced while in prison in his home country.
Nacha Al Bookay says he wants to bring international attention to what's happening in Syria.
Using his photographic memory, he recreates his suffering and that of others on sketch pads and canvases.
He said: "I feel like it is my duty to continue the revolution, drawing and condemning what I saw in Syrian Prisons is the continuity of the revolution. If I stop drawing this topic, it would mean I have given up and said to Bashar Al Assad, "you have won the war against us."
He added: "There was between 190 and 220 people in one room that measured 16 metres long and 3 metres wide. This is where the interrogations took place, where the torturers were using diffirent techniques.
Al Bookay is part of a group of exiled Syrian artists known as the Syrian Cultural Caravan tour Europe to raise awareness of the conflict in Syria.